İstanbul is a great travel destination for many reasons, thus, it is unsurprisingly popular for people from all over the world. Though, it is a big city with a huge population and activity. Its diverse range of attractions is spread all over the city. Therefore, choosing the right spot to stay in the city is important for visitors to İstanbul. Karaköy is one of the greatest options these days. Let us see just what Karaköy is, and what it offers for discerning travelers with modern expectations out of their trip.
Karaköy's Transformation in Time
Karaköy is a meeting spot for everyone across the town, an area that hosts many designer shops, and art galleries. The architectural theme of preserved historical buildings just goes really well with the atmosphere for these venues too. It is also relatively calmer than some of the more hectic neighborhoods that surround it.
This is the modern Karaköy though. The area has been through a voyage through ages, to say the least. Yesterday's industrial area with repair shops, car mechanics, and warehouses, is now the cool spot of the town.
With scenic shorelines on both the Bosphorus Strait and Golden Horn Estuary, and almost immediate access to the greatest historical wonders in İstanbul's Historical Peninsula, and frankly all the city, we can say that the area has evolved to a state that fits it a lot better.
Nowadays, the area is a center of arts, and of nice venues for either dining or nightlife and some great hotels like ours too! That being said, check out why hotels in Karaköy are one of the most convenient hubs to stay in to enjoy the city to the fullest.
New Meeting Hub for both sides of the city
Like we have said, Karaköy offers a lot of great locations for eating, drinking, having fun, exploring some cool artsy-craftsy wares, and has great access to everywhere in town. These assets make it a natural meeting point for either İstanbulites or visitors of the city. When you think about it, it really is no surprise: Karaköy has great access to and from anywhere in the huge city and is a great stop itself. Thus, more and more travelers of the current generation choose it as their home away from home for their exploration of İstanbul.
Its assets satisfy both entertainment and calmness craving folks, and quality hotels provide you the peaceful rest between your explorations of İstanbul's many treasures, which you can access a lot more easily from Karaköy compared to most other options. For example, you can get to any place to visit in Sultanahmet quite easily, with just a walk even.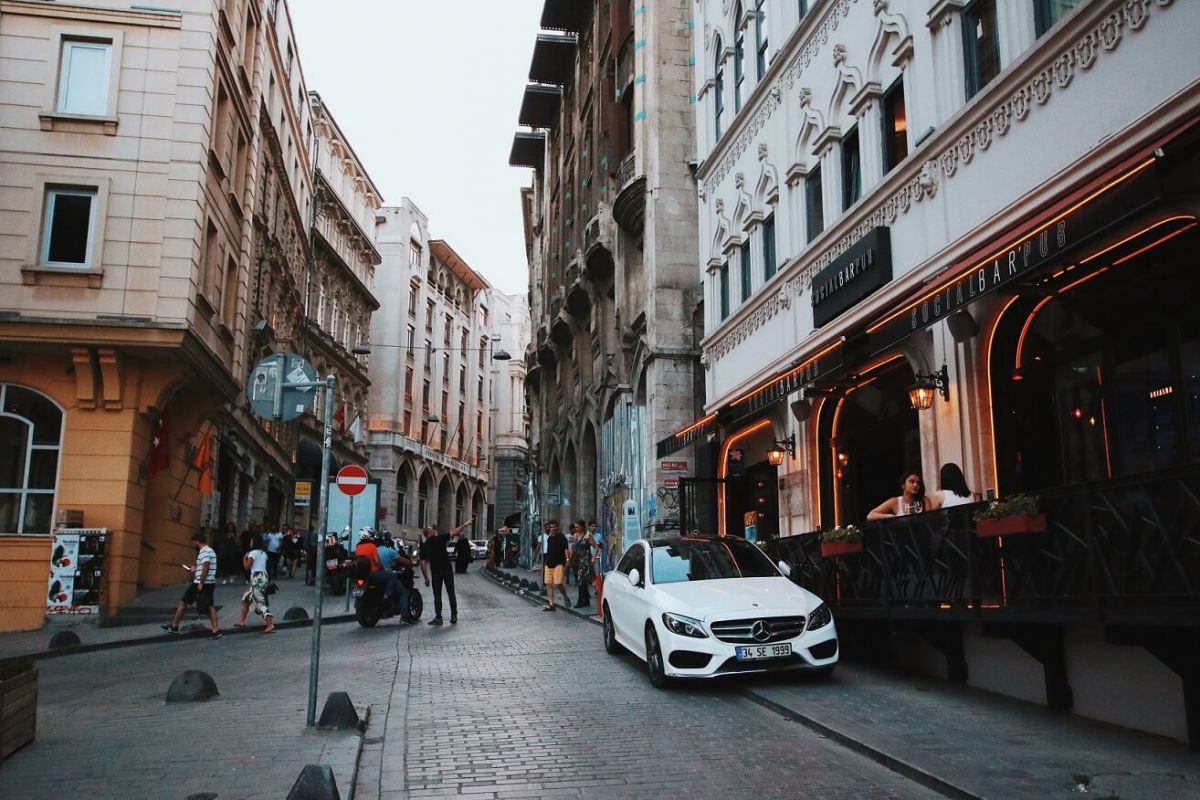 At the risk of sounding like a broken record, Karaköy itself offers a lot in the ways of historical architecture, modern art, designer crafts, and nightlife. Now let us expand on just saying it, and list some of the better venues you should probably check out!
Best Venues in Karaköy
Don't mistake us calling Karaköy a calm place to mean that is boring or anything like that. There are, indeed, many quality nightlife moments to experience in and around the area to enjoy. You can find many great bars and pubs in the area. One of the most popular bars in the area is Fosil, which serves quality drinks and entertainment up to 04:00 in the morning. Social Jazz Bar is, as you would expect from the name, provides quality entertainment with some good jazz music. Finn Karaköy is where you go for enjoying some nice cocktails with cool rhythms in your ears.
A lot of the other venues in Karaköy adopt a "gastro-pub" approach that caters both to great food and great entertainment at the same time. Wom Karaköy is one of them that is especially popular among the younger audiences of İstanbul. Unter, Mitte, and Nabu Italian Gastropub are just some of these quality venues.
If you want to explore a more local flavor of entertainment though, Lüsyen might just be the venue for you, with the 80s-90s Turkish Pop Music, local dishes, and in certain days "fasıl" experience with live performed Turkish Classical Music.
There are many others as well, providing you both live music performances as well as DJs.
Karaköy's Culinary Locations
If you want to keep your tummy as happy as your ears, Karaköy has that covered too! Like we have said above, there are many gastro-pubs. But there are even more that focus more on the gastro part. Whether you are looking for some fine-dining or budget-friendly delicacies, you can find them both in Karaköy.
Let's start with a cozy and budget-friendly soup specialist, shall we? Karaköy Çorba Evi (literally, Karaköy Soup House) has an incredibly diverse range of soups on offer and is really well known for its tastiness. Their bowls are fairly large and are filled almost to the brim. If you are budget-considerate, but still want to have quality and hearty food, this is a great place to visit in Karaköy.
Of course, a district with lots of sea around it would not lack when it comes to seafood. There are many fish restaurants, many with a long history. The historical bridges crossing Golden Horn Estuary, for example, have a lower deck below the road level, where there are many seafood restaurants at sea level.
Arada Endülüs offers you a taste of world kitchens in Karaköy, Lebanese one in this case.
We can't really list all the great foodie locations around Karaköy as they are just too many. Safe to say, whether you crave some posh burgers, world dishes, local tastes, you can be sure to find a good example of it in the area.
3rd Wave Coffee Houses in Karaköy
It wouldn't be right for a rising star neighborhood like Karaköy to miss out on the contemporary trends like the coolest coffee houses. The 3rd wave coffee house craze is pretty well represented in the area. If you are a connoisseur of fine brewed coffee from the finest and diverse kinds of coffee beans, you will not feel like a stranger here. To count a few names, Coffee Sapiens, Brew Coffee Works, Karabatak, EspressoLab are probably worth checking out to sate your quality coffee cravings in our neck of the woods.
Also a Nice Stay for a Culture Trip
Karaköy is mostly a center of arts and crafts by itself already, and it is very close to the culture and history hotspots of İstanbul too. The old city, Tophane, Beyoğlu are all within reach from the district.
Karaköy district itself is full of history. Galata Tower is very close, constructed in medieval times, the tower provides a birdseye view of the city and Bosphorus from 60 meters high. There are many, many 19th to early 20th century buildings and other structures in art nouveau and baroque architectural styles in the area, as well as its own historical mosques. Moreover, it is right next to the İstanbul Historical Peninsula with its districts like Sultanahmet, Fatih, and Beyazıt.
Staying in Karaköy means a peaceful, comfy, and modern nest that is still carrying textures of history, and being able to reach any of İstanbul's many wonders quite easily. If you are convinced already, we would love to see you with us here in The Bank Hotel İstanbul!
Read our previous post at https://www.thebankhotelistanbul.com/en/blog/hotels-in-taksim-beyoglu