There are so many distinct places, cultures, and experiences to enjoy in our world. To go beyond our immediate neighborhood, beyond our comfort zone, and step into new worlds, is what makes tourism the great escape of our time. Sometimes, it is the hot summer sun, sandy beaches, and sea breeze. Other times, it is the vast cultural heritage of our civilizations, cultures, and history in their distinctive glory. The latter brings us to our subject, İstanbul, a top destination for a cultural and historical holiday.
What makes İstanbul so though? What sets it apart, what is there to see? Well, let us see together in this article…
From Byzantion to Constantinople, İstanbul's Vast History
A city that was known to many cultures with many names, one that was the capital city for two great empires. Some historians even consider the capture of İstanbul and thus the fall of the Byzantine Empire as the beginning of the Early Modern Period in history.
The earliest remains of the human settlement known within the boundaries of the city are all the way from 6700 BC. So many people have settled here throughout history: Thracians, Phoenicians, Greeks, Byzantines, Turks… Yet more were residents within those states… traders, soldiers, minorities… There still are Turkish citizens of Greek or Armenian origins living in the city. You will be able to find all kinds of minorities that live throughout Turkey in İstanbul too.
Back in Byzantium days, there were even some proper Vikings guarding the Byzantine emperors, who were wary of their own palace guards' schemes! These Norsemen, the Varangian guard, called the city Miklagaard, the "big fort/city". Other names of the city through history included Lygos, Byzantion, Byzantium, Constantinople, Konstantiniyye, and finally İstanbul. The saying goes that, there is no part of soil in İstanbul where you can't find some bygone culture's remains lying beneath. Thus, it should be no surprise for anyone that the city has a considerable variety of historical sites to see. Let's count a few of those now, so you could add them to your list for a cultural and historical holiday:
Best Historical Sites to Visit in İstanbul on Your Cultural and Historical Holiday
While the sites are many, there are some that stand out of course. Let's count a few of them now.
The Must-See Ancient Trio in the Heart of the Old City
Aya Sofya (Hagia Sophia): The monumental building has gone through a wild ride throughout its existence. Started out as a Byzantine Orthodox cathedral, then a Roman Catholic one, and back to an Orthodox, and then a mosque, and a museum, and then back to a mosque. The architectural style of Aya Sofya has influenced the designs of several monumental mosques to follow in the city under Ottoman rule.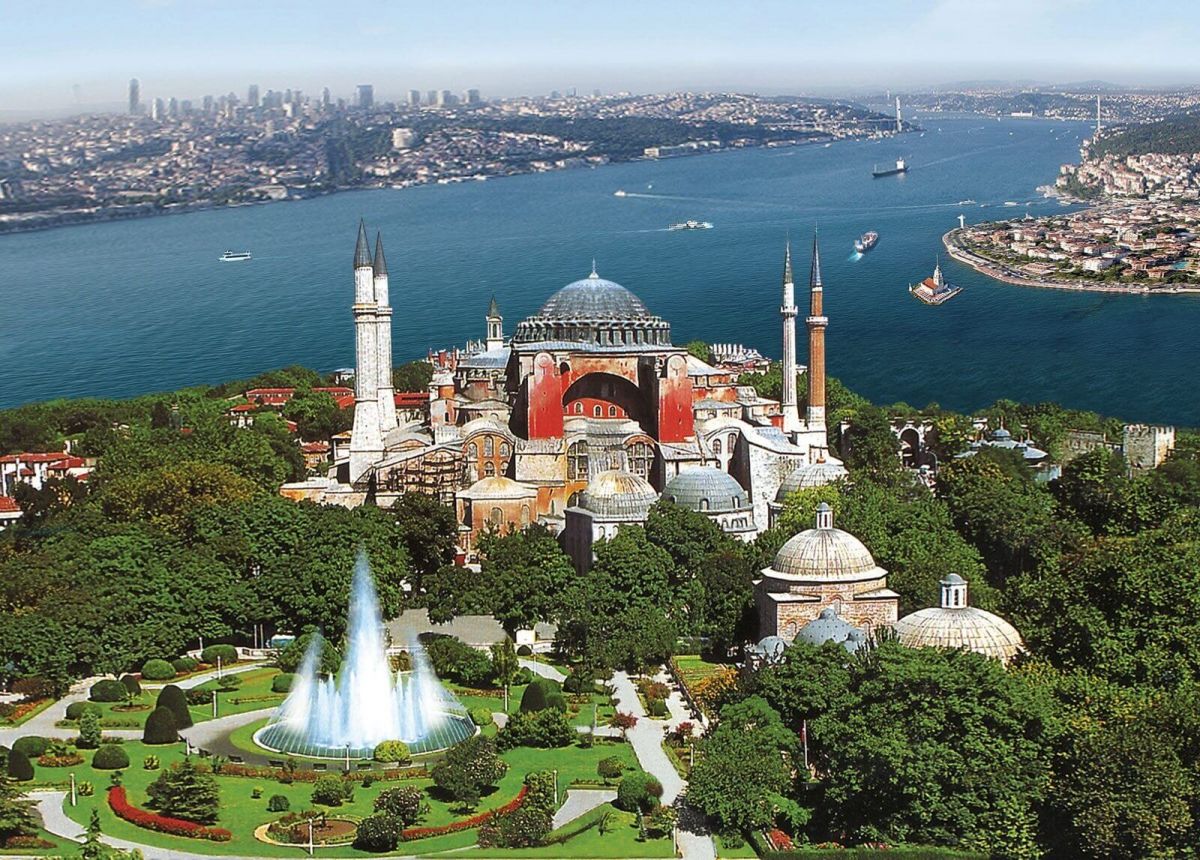 Sultan Ahmed Camii (Blue Mosque): With six towering minarets, and a firm place in the city's silhouette, the 17th-century mosque is one of the most striking architectural sights of İstanbul. The interior is adorned with hand-made ceramic tiles in İznik style, with blue heavy painted patterns giving the mosque its name. While each of these tiles is something to behold, it may not be feasible to appreciate every single one of them, considering there are in excess of 20000 pieces within the building.


Topkapı Palace (Topkapı Sarayı): Back to the 16th century, and the area where Aya Sofya and Basilica Cistern is, Topkapı Sarayı is a huge complex that served as administrative centre and residence of the Sultan during the Ottoman period. Today, the palace is a huge museum with many interior and outdoor areas, with artifacts detailing the history from the 16th century up to the early modernity. There are separate sections like the armory, treasury, harem, etc. The palace also offers beautiful scenic views of the city in outdoor areas. You can see all sorts of beautifully preserved artifacts from royal chariots to day-to-day items like apparel, and then relics, arms, and armor from many eras, both of western and eastern origin.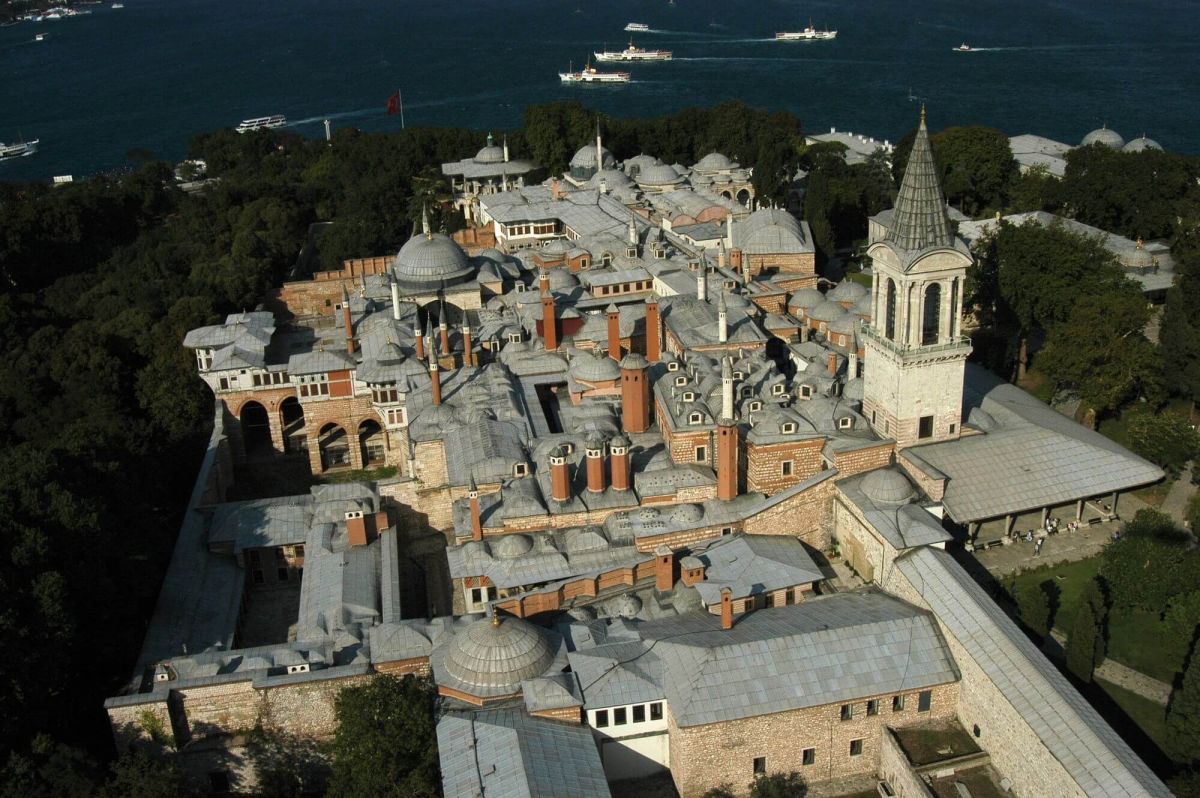 Then the Road Leads to the Hidden Gem
Basilica Cistern (Yerebatan Sarnıcı): There are hundreds of ancient cisterns under the city of İstanbul. Yerebatan, however, is the largest of them by far. Situated very close to Aya Sofya and also the Topkapı Palace, these 3 sites make a great historical trio to explore, but it is very unlikely for anyone to be able to enjoy all three in a single day! The underground cistern is kept at a low level of water, so the visitors can explore it. Columns that are highly adorned with reliefs and sculptures are among the must-see artifacts of the city. The cistern has been featured in many films, including a Bond movie, a Dan Brown adaptation, and even an Assassin's Creed game!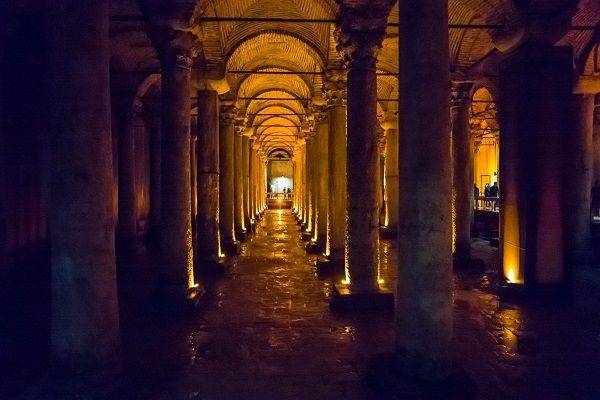 Moving to Ottoman Times
Dolmabahçe Palace (Dolmabahçe Sarayı): Moving a bit past the ancient and medieval wonders, Dolmabahçe Palace was the head of administration in Ottoman Empire from 1856. The palace features architectural styles of baroque, rococo, and neoclassical. Located in Beşiktaş, right on the shore of the Strait of İstanbul, the palace is also quite a scenic location. Whenever one is taking a trip on many little ships over the Bosphorus, the palace is a striking sight on the rich shores on both sides. When Mustafa Kemal Atatürk, founder of the Turkish Republic had declining health, he spent his last days there in medical care. The room where he passed away is still held in the state as it was back then on November 10th, 1938 09:05.


While there are many, many more destinations in İstanbul that will make a cultural and historical holiday here tempting, we have to keep this list short and sweet. Otherwise, we could literally turn this article into at least a book section. However, we do believe that these are the best historical sights within a cultural and historical holiday in İstanbul, at least as a start!
Museums are Whole Another World!
Aside from many historical sites (some of which double as museums like Topkapı Palace), İstanbul also hosts a great number of museums and art galleries. Naturally, they are dedicated to many different fields, fitting in with the rich diversity of İstanbul. İstanbul Archaeological Museum, Koç Museum, Harbiye Military Museum, Hisart Living History Museum are some of the best, but there are many, many more. Likewise, galleries like İstanbul Modern host pieces of contemporary art in all their glory. The annual Contemporary İstanbul and bi-yearly İstanbul Bienal are among some of the arts and culture-related organizations with a long history in town.
For a Distinctive Cultural and Historical Holiday:
What does İstanbul Offer in Culture and Tradition?
If anything, İstanbul is a nexus, a whirlpool of people and cultures. Has been so historically, and currently, it still is so. The city has a population that exceeds some decent-sized countries after all. Depending on what part of the city you travel to, you may see Romani people dancing to melodies on streets, kids playing soccer on alleys, street musicians playing tunes from both the western world and local folklore, and a lot more.


Visit Balat to see small districts with tightly knit people living in old styled homes, go to Turkish Baths to experience the Hamam culture, or go to a bazaar for some hectic open-air shopping! Enjoy street artists, or artisans keeping old handcrafts alive in their shops. The options are just limitless… Meanwhile, you will need lots of energy, so don't forget to check out local street food too, because…
Yes, Food is Culture Too: İstanbul Culinary Assets from Tradition
Gastronomical arts and traditions are among the many finer joys of cultural tourism. And believe us when we say that İstanbul has its spades! Our special kinds of tea, coffee, both fast and elaborate kinds of food, and the views to experience them around are all special, if we may say so… The town offers kitchens from Ottoman dishes to Anatolian, and of course many of the world kitchens too!
If you want a peaceful home away from home, close to everywhere, we are eager to have you with us here at The Bank Hotel Istanbul, in Karaköy, in the nexus of nexus!