Sultanahmet area is more or less the heart of the city from a historical perspective. It is the crown jewel of İstanbul's historical peninsula. It is also fairly close to transportation nodes connecting parts of the town together. Thus, it is not surprising for the historical and cultural tourism interested travelers to consider choosing hotels in Sultanahmet. Although, you should also weigh options around the Sirkeci area, as it connects the area to the rest of the huge city, including to the life on the other side of Golden Horn.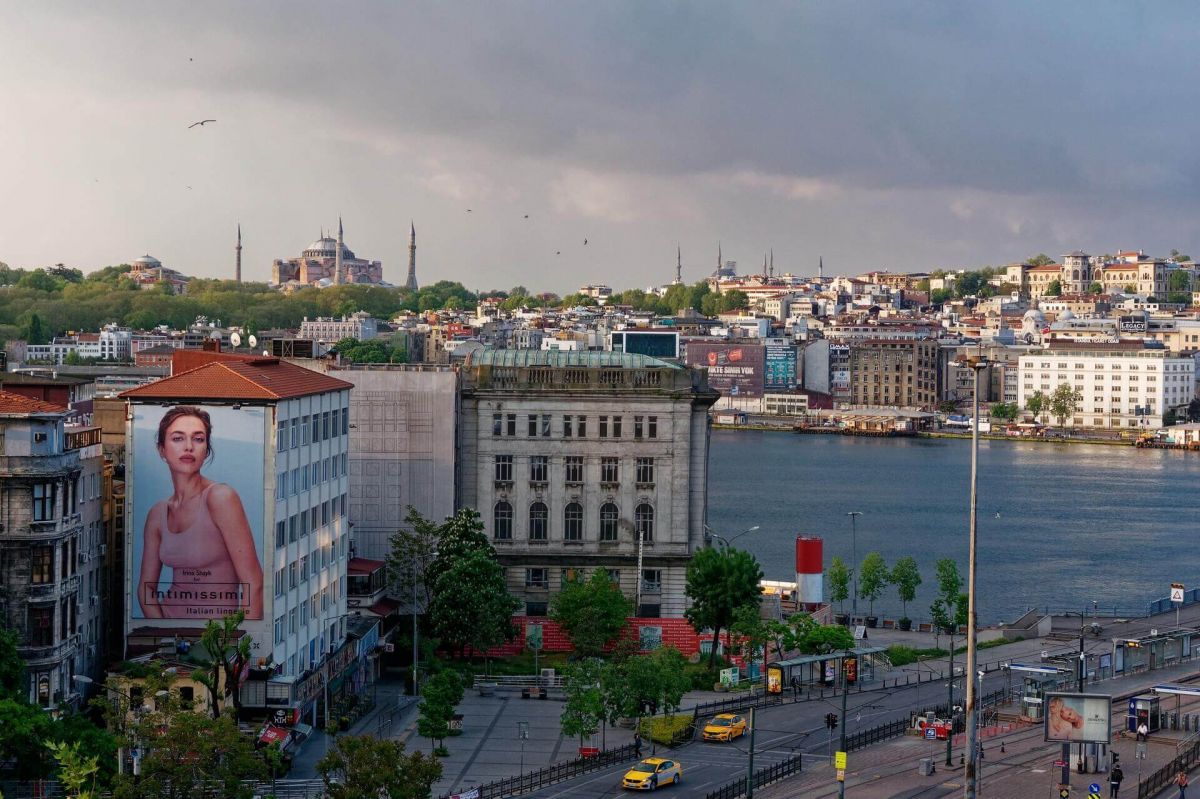 Major Differences Between Sultanahmet and Sirkeci Areas
İstanbul is a historical collage of ages, cultures, faiths, trade, arts, wars, and more. That is a well-known fact for many, nothing new you may say. And you might be right. Sultanahmet is, however, pretty much the beating heart of the city's historical roots, and still standing great monuments. The area was the head of administration and capital for Byzantine Empire, and then the Ottoman Empire. That is also obvious from the monuments and artifacts within Sultanahmet, from both periods and empires like Hagia Sophia, Hagia Irene, Topkapı Palace, Basilica Cistern, Blue Mosque, and more. You may have noticed these are some of İstanbul's most famous places, and you are right. They are all within walking distance to one another, though this does not mean that you could enjoy them all in a single day, as just one of them alone will probably take the whole day to properly experience.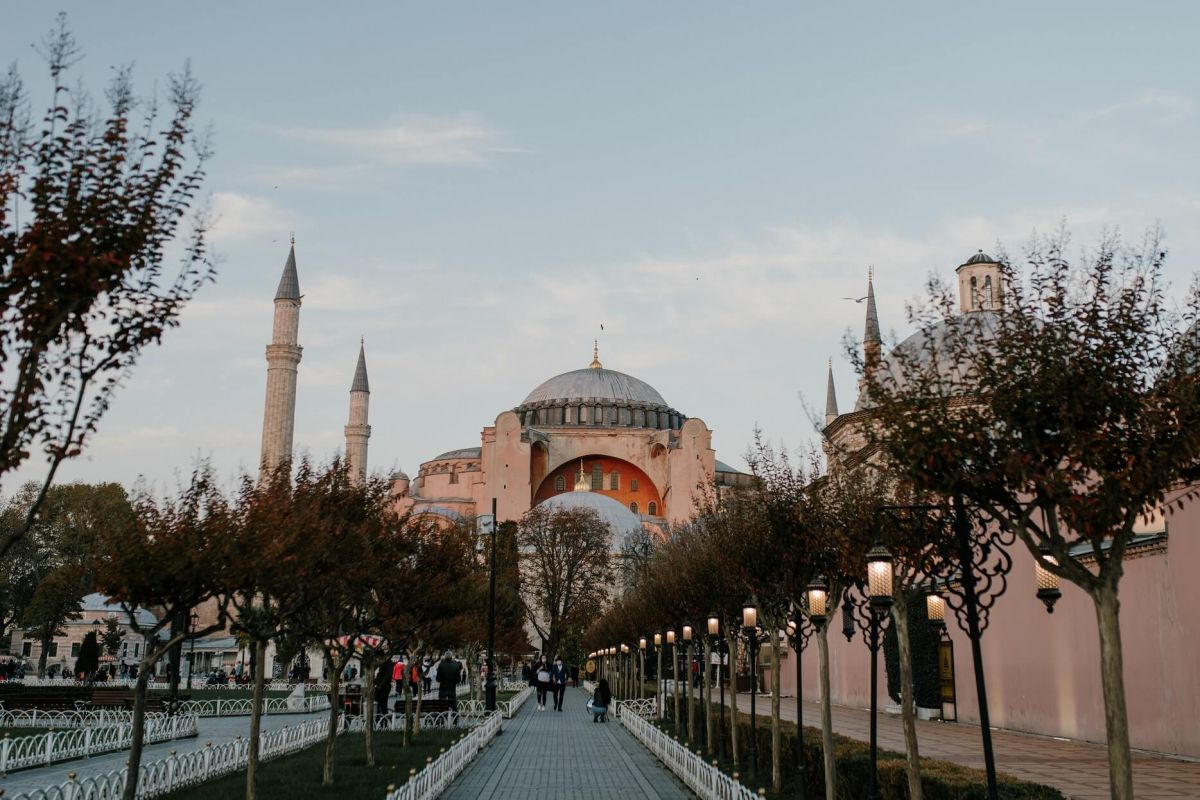 Sultanahmet is not only about history though. It is also a nice place to experience from a gastronomic point of view, and many cool restaurants and street food points in Sultanahmet are waiting to please all foodies. We may venture to say, with culture, history, and food, Sultanahmet has what it takes to please the brain, heart, and even the tummy! These altogether have drawn countless visitors to hotels in Sultanahmet, making it an all-time favorite spot for those seeking cultural trips.
When Sirkeci Comes Up While Looking for Hotels in Sultanahmet
Sirkeci, on the other hand, is more of a business district with shops and shipping companies bustling with hectic activity in the daytime. While, like just about any central district of İstanbul, it also has historical structures to see, they are a bit less in both number and splendor. Also eating in the Sirkeci area may prove less satisfactory for culture-loving travelers, as they tend to be more business-like, just like the district.
They cater more to keep the workforce of the area fed for a quick and hearty meal before they get back to doing whatever. Thus, you may find that you end up having to commute rather often for finding a nice restaurant, or a decent cafe to wind down. Although, Sirkeci itself has the beautiful and still active Sirkeci railroad terminal as a still-living historical building, as well as many historical bazaars (Grand Bazaar, Egyptian/Spice Bazaar), mosques, parks, and museums in surrounding areas. These are also close to Sultanahmet about as much as they are to Sirkeci.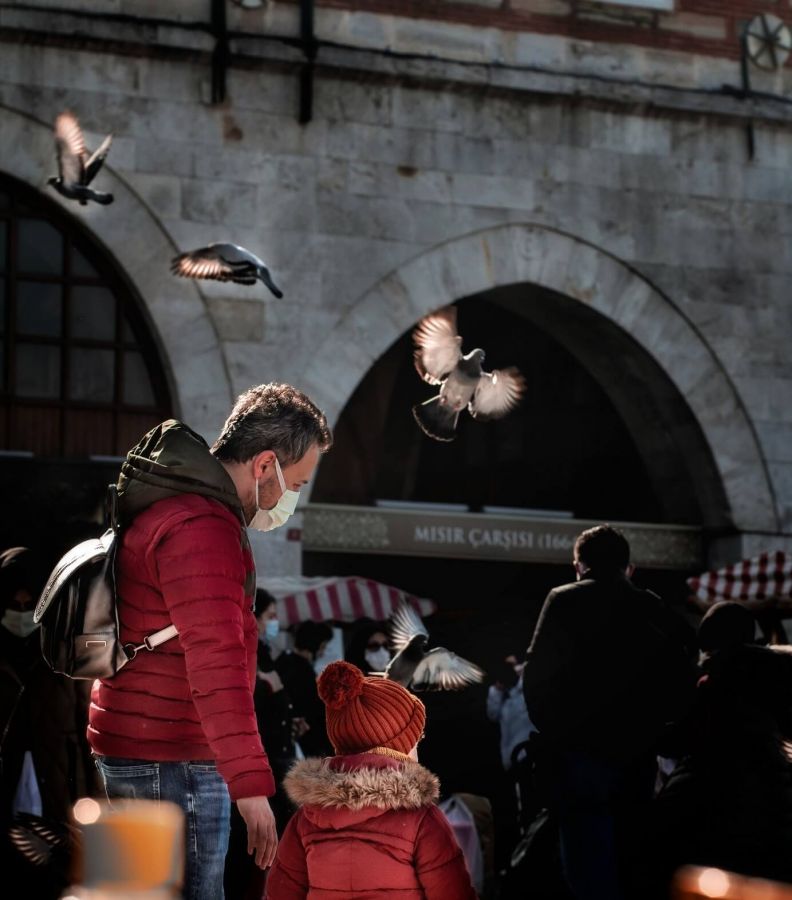 You will probably come across hotels that are Sultanahmet's proximity and still advertising themselves as hotels in Sultanahmet, so we thought you might want to know before choosing what works best for you.
Historical Wonders to Enjoy While Staying in Sultanahmet Hotels
The İstanbul Historical Peninsula area is famous for containing a rich range of monumental buildings from multiple cultures and periods. Any history or culture-loving traveler would know İstanbul is a top destination for a historical and cultural holiday. And Sultanahmet district is, as we have said above, the heart of the historical peninsula. To count only some of the most interesting ones shortly:
Hagia Sophia: Started as the great church of Byzantine Orthodoxy, turned into a Catholic church, Islamic mosque, a museum, and now back into a mosque, but also kind of still a museum. The architecturally and historically significant structure is not only magnificent, but is one of the most famous historical landmarks of İstanbul, and the whole region.
 
Blue Mosque: Literally Sultanahmet Camii (Sultanahmet Mosque) in Turkish, this is one of the most monumental of İstanbul's great mosques constructed during the Ottoman rule. The Blue Mosque name comes from the handcrafted decorative tiles with blue patterns within, all 20000 of them (yes, that is twenty-thousand).
 


 
Topkapı Palace: The great palace and administrative centre for the Ottoman Empire for centuries, this has been the home to some of the most powerful sultans of history. Now the great palace is a huge museum with many sections to see, and the complex includes some Byzantine structures like Hagia Irene as well.
 
Basilica Cistern: A wonder from the Byzantium days, the underground cistern is almost straight from a fantasy novel. While there are hundreds of cisterns built under İstanbul through thousands of years, Basilica Cistern is the biggest one, and with its decorated columns, as well as great acoustics, it has been a venue for concerts, and multiple blockbuster films.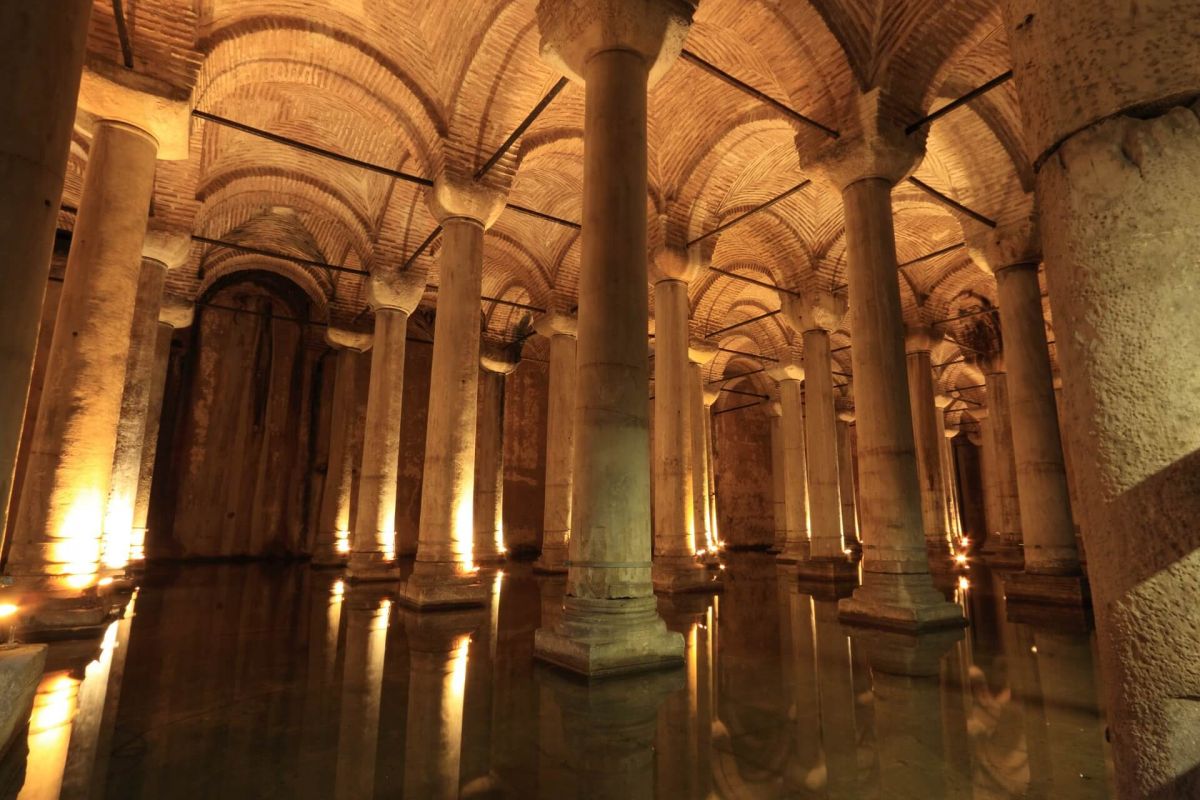 Tasty Breaks and Adventures for Foodies in and around Sultanahmet
Sultanahmet also includes many great tastes to enjoy for the enthusiasts of the food culture of the world. From the eponymous Sultanahmet Köftesi (meatballs) with a century-old tradition to a posh restaurant within Topkapı Palace that serves Ottoman dishes with a view of Bosphorus (which has served to many dignitaries like Atatürk, Queen Elizabeth II, Benazir Bhutto) you have many different cuisines and venues to experience.
Of course, the Sultanahmet area is also full of, or very close to many of İstanbul's own flavors of street food. From freshly caught and fried fish sandwiches to rice-stuffed mussels, İstanbul has a unique seafood-oriented fast-eating culture, and the Sultanahmet area is where you can experience it against a beautiful view of Bosphorus Strait and Golden Horn Estuary.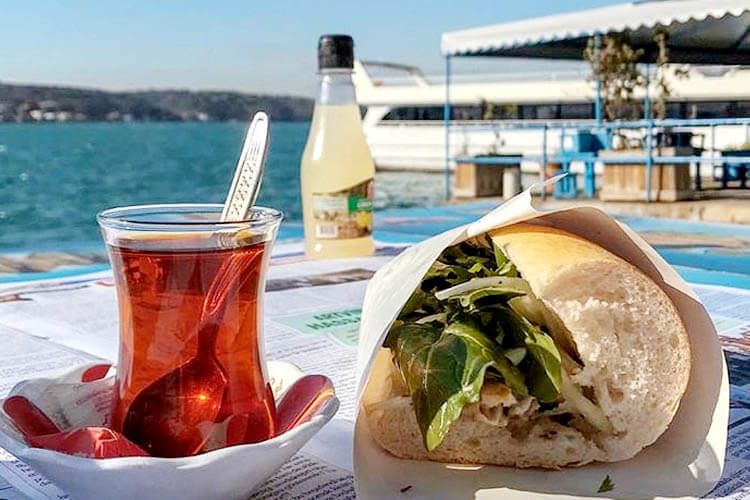 Of course, we can not leave old-style coffee and tea houses, some with a century of history, but the tradition goes way further back than that. These cozy venues will offer you freshly brewed Turkish coffee to wind down in peace, and in quality.
What Are the Best Location Alternatives to Hotels in Sultanahmet?
The thing with any cultural trip into İstanbul is, that the city is a huge marvel of culture, history, and landmarks all over it. So, you may want to plan to get the most out of your cultural trip, both of living and historical kind. There is a vibrant İstanbul with many colors on the other side of Golden Horn as well, with other famous districts like Beyoğlu, Beşiktaş, Galata, Nişantaşı, etc. Moreover, there is also a whole another part at the Asian shores, the eastern part of the city, which also has beautiful neighborhoods to explore like Üsküdar, Kadıköy, Moda, etc.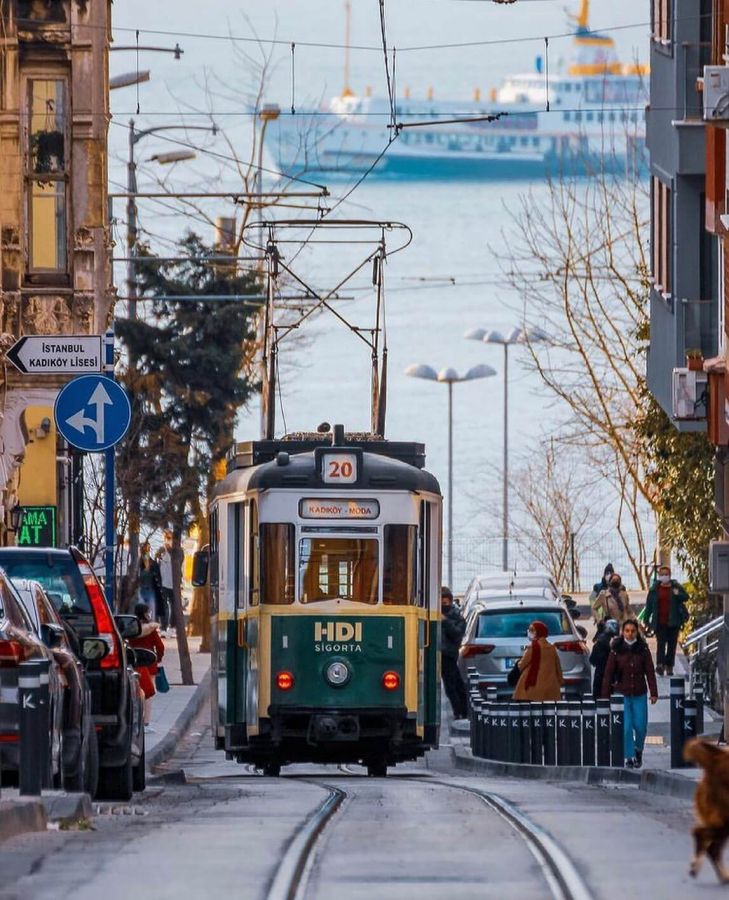 Here, Karaköy becomes a great alternative to hotels in Sultanahmet, being just on the other side of Golden Horn Estuary from the Sultanahmet area. Karaköy is connected to İstanbul's historical peninsula with the also historical Galata Bridge. Just 490 meters across, the bridge is a nice walk, surrounded by the view of Golden Horn and people enjoying their days with their fishing poles hanging from the bridge. The bridge also has a lower level, where many seafood restaurants are located.
Being a transportation hub, Karaköy very well connected to everywhere in İstanbul, both on the western and eastern shores of Bosphorus. The area has its own historical buildings like Galata Tower, offering a bird's eye view of the city and Bosphorus, as well as the preserved 19th-century architecture of the Bankalar Caddesi area. Well, to be fair, one of those is our The Bank Hotel İstanbul itself, being the former Sümerbank building!
Karaköy, a Great Alternative to Hotels in Sultanahmet
Karaköy offers very close access to İstanbul's great historical assets, offers its own historical buildings as well, has some of the best the town has to offer when it comes to dining and cafes, and is still calm and quiet when you get back to your hotel, compared to most other options for hotels in Sultanahmet area.
If you would like to learn more about it, you may check our article that we made sure to design as a guide about hotels in Karaköy too. Hope that we have been able to paint a clear picture for your İstanbul holiday, and would love to have you here with us, should you choose so!
Enjoyed our post about choosing hotels in Sultanahmet? Read our previous post at https://www.thebankhotelistanbul.com/en/blog/hotels-in-karakoy-guide-how-to-choose